Sunday Mornings
---
Join us for Church.
In person, Sunday at 10:00am.
Livestream available on Facebook, Sunday at 10:00am.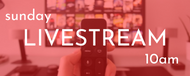 ---
NOTE: This link takes you to Facebook- you do NOT have to login to Facebook to view the video. When prompted to login or make an account, click "Not Now" or the little "X", and continue to scroll down until you see the Livestream.
---