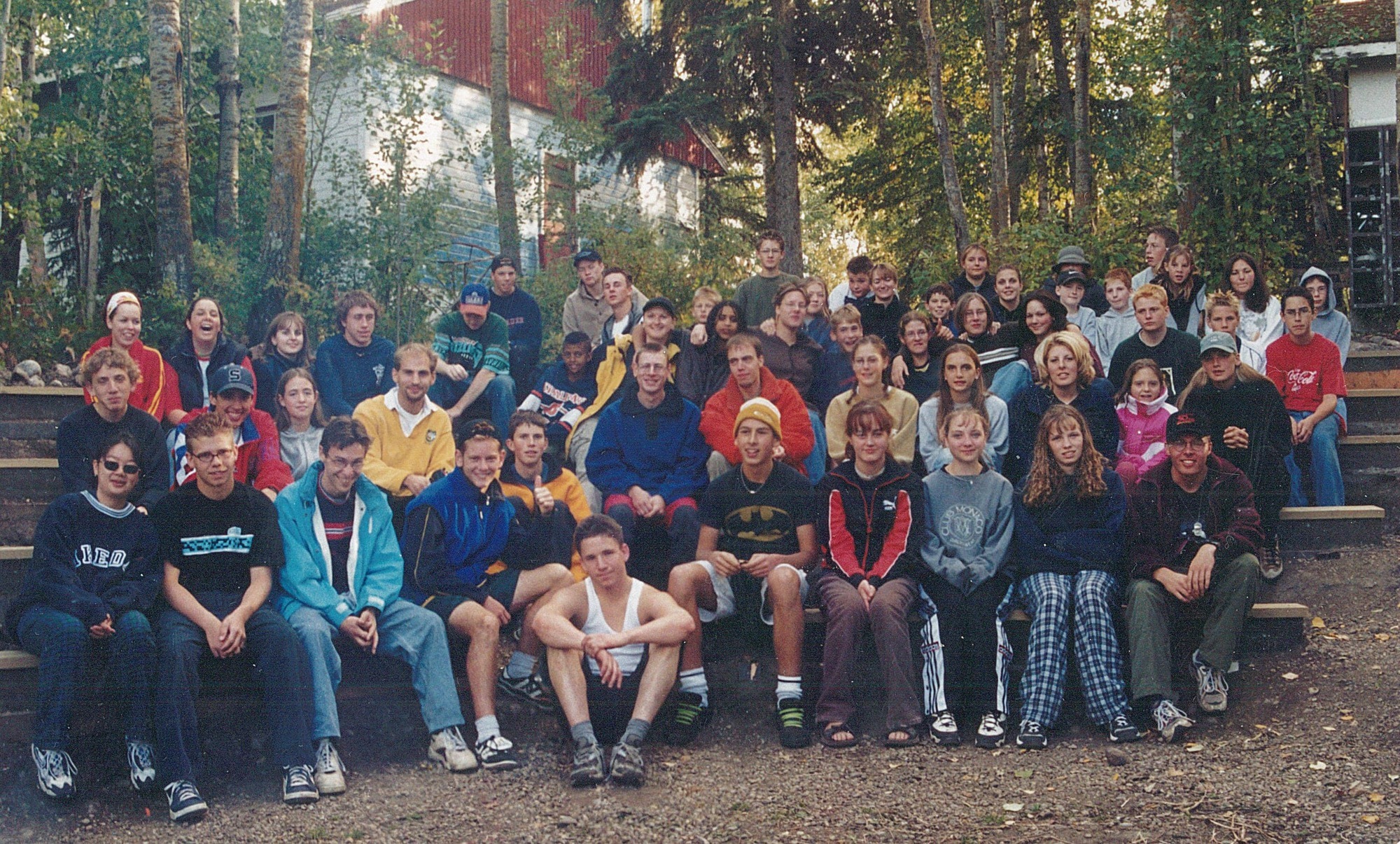 During my second year at Bible College I began writing music about the things God had been teaching me. "Second Chance" (which I mentioned in my last chapter) was one of those songs. Eventually, I put ten songs together and recorded an album in the basement studio of a friend that I also called "Second Chance." I played all the instrumental sounds on my keyboard, including the drum tracks. (I would love to hear those songs played by an actual band). I then sang over the tracks and, when finished, produced about two hundred cassettes for distribution. Many of the songs reflected themes from my recent struggles. For instance, in the song "Don't Listen to Lies" you hear me wrestling with my self-image due to my blistered and acne covered face.
Emptiness
All alone
Depression
Heart turned to stone
Look in the mirror
Hate the sight
You want to die
It's your right
I hear you praying and I know the feeling
I know the emptiness and the stealing
I thought awhile and then I started praying
I heard a whisper and knew that Jesus was saying,
Don't you listen to lies x 2
You're a diamond in the sky
A heavenly beauty in my eye
Don't you listen to lies x 4
Magazine picture
Perfect face
Makes you feel like a disgrace
TV screen
Perfect being
Hide away so you're not seen
I see your beauty when I look at you
Don't let the enemy steal that too
Then there are the lyrics from "Watch what you Say." This one deals with the power of words and reflects how flippantly we throw them around. I was guilty of this during some of the arguments with my mom when I was trying to make my faith my own. This song was also inspired by the effects being called a "pea brain".
You and your ma had a fight about what's true.
Out of your rage you say, "Mom, I hate you."
He's the boy they pick on and call names.
Pressure builds and you join in their games.
You've got to watch what you say
Watch what you say
Words too strong for a heart to break
My favorite song on the tape is "Prodigal Son." It has a funky base line and saxophone. It describes my rebellion against God for not allowing things to turn out the way I wanted when I went to Bible school. It also describes a God who never let go of me and who throws a party when we come back to him.
I walked away
Denied your name
I turned my back
Walked into the rain
Ninety nine sheep means one is lost
The Lord's gonna look until he is found
I shook my fist
Cursed the sky
If you don't want me, Lord
I'll know why
I looked to heaven
Away from harm
I don't deserve you but you stretch out your arms
The prodigal son
I was on the run
A prodigal son
But I'm coming home
Let the feasting begin
The lost sheep come in
The prodigal son is coming home tonight
You've got to kick off your shoes
Like the angels do
It's time for a party
And it's time to rejoice
God's dancing to the bea
His son's back on his feet
So join the celebration
The prodigal's come home tonight
Oh yeah!
The final song I'll mention is called "Love Me" and describes how far I felt from God when I got sick. It also describes the Daniel 3 conviction I eventually came to when I said I would follow him "whether he delivers me or not." Here are some of the lyrics from that song:
Feel me
Be real to me
I need your comfort
Stay close to me
Feed me
Cradle me
In your arms
I feel so cold
You seem so far away
Love is easy when it all goes right
The test comes when you got to fight
I'm going to love you in the good and the bad
I'm going to love you even when I am sad
I'm going to love you when I don't understand
I'm going to love you and I'm going to stand on your promises.
With my tapes, keyboards, drum machine, speakers, soundboard and friend Terry Trathen doing sound, (Terry was a member from my old band Exhorter) I started to perform shows. One concert was about to end my touring and launch me into pastoral ministry.
My mom was working as an MRI technician at the Cross Cancer Clinic in Edmonton. Her co-worker Doris, whose daughter sang backup vocals on one of my songs, went to a church called Northgate Baptist. Doris decided to contact her church and see if they would be open to having me come and do a concert for their youth group. Everything was arranged and I came out and performed for about an hour.
A few days later the associate pastor (Ralph Korner) gave me a call and asked if I would be interested in helping him with the church's youth group. It was a volunteer position and on the other end of the city from where I attended Bible School, but I said "yes". An opportunity to begin pastoring a group of people was much more exciting to me then "touring" with my music. Ralph set up an interview between me and some of the church's leaders. I remember one part of that interview distinctly, because it came with the last question. An older gentleman named Bruno looked at the double looped dangling earring hanging from my left ear and asked me if I was willing to get rid of it for the position. I didn't hesitate and pulled the earring out. I wasn't trying to make a statement with the earring, I just liked it. And getting an opportunity to work in a church was more important to me than my right to wear an earring. The earring didn't go back in until I turned 39 and now I only wear it occasionally when I'm not around church people who might take offense.
Ralph Korner became the mentor who launched me into vocational ministry. In words he later wrote in a card he gave me, "I'm the slingshot meant to launch you out." He even signed a book he gave me, "your slingshot." Ralph and I met on a weekly basis and discussed everything from ministry, school, theology, relationships and sports. As I worked at the church I was gradually given more responsibility to run the youth and, by my second year, I was running it myself. By my third year I was being paid and being called "pastor" for the first time in my life.
Northgate didn't pay me during my first year and only modestly during my second year. This didn't bother me although, looking back, it should have bothered them. In fact, it gave me many opportunities to watch God take care of me. After starting at Northgate I moved into a bachelor pad a block from the church. I wanted to get through college with no debt (which I did), so I lived as frugal as possible. No car. (I took the bus everywhere). And in my single room I had a mattress, desk, computer, bookshelf, table, four chairs and an empty fridge. But I was happy. Then came the times I received anonymous $150 gift cards to Save on Foods in my church mailbox. I was living the dream!
Northgate provided me with opportunities to "get my feet wet" in pastoral ministry. I trained five leadership teams over my six years there. I volunteered in the community and organized community outreach events like soccer camps, kids' day camps and street hockey tournaments. I took a team of youth on a mission trip. I developed curriculum and taught a verse by verse study through the book of Romans called "Roamin' thru Romans". I took 35 High School students through a course I developed on the New Testament, complete with eight exams. We also developed drama camps where, over one summer week, a group of us would write, script, cast, build sets, practice, memorize and perform a play for the church. Two of the plays we wrote were called "The Greatest Treasure" and "Higher Power". We put these plays into a book called Brushstrokes, along with various short stories and poems written by the youth. Northgate also gave me opportunities beyond youth ministry to develop my preaching and other pastoral skills. They allowed me to preach on a few Sunday mornings, at Senior's events and at different camps. They gave me opportunities to baptize, lead weddings and sit in on board and business meetings. I look back at Northgate with many fond memories. There were a couple of negatives however. These would also shape how I would evaluate ministry in the future. One of these memories was our denomination's Triennial in Edmonton. I was on the committee to plan the youth activities for this conference.
When the Triennial came we spent one afternoon at West Edmonton Mall, one of the largest malls in the world. Between a morning session and an evening concert with Audio Adrenaline, we wanted to allow the kids to relax and have some fun. So we loaded over a thousand teenagers and youth leaders onto buses and drove to our destination. Along the way we handed out bag lunches for everyone to eat. When we arrived the youth started streaming out of the busses and began throwing their lunches away. No one seemed to notice the growing mass of garbage as they all disappeared into the mall. It was a disaster. What kind of testimony was this going to be to the mall staff when they knew this was left by a Christian group? I knew we had to clean it up. This is the reflection I wrote later that evening:
On one side of me there are lights, games, music, money, candy, toys, a bright roller coaster, jumping water, lasers and virtual reality in West Edmonton Mall''s Fantasy Land. Then, I turn my head, and see about a thousand bags of lunch thrown around the entrance. Untouched food spills down the stairs and reaches the street, cans of pop litter the flowerbed, apples with two bites in them have been tossed to the ground, and peeled oranges have been left uneaten. I'm angry. I fight back tears. Where did this waste come from? I don't want to admit it because I know it came from us.
I look around and fail to see another youth leader, and so I begin to search through the piles of garbage and, over the next two hours, salvage 300 sealed and unopened sandwiches and 150 cans of unopened Coke. I gather hundreds of untouched apples and oranges. I put these aside to take to the Hope Mission, but this still leaves hundreds of half eaten sandwiches, fruit, granola bars and cans of Coke all over the parking lot. At this point a couple of other people have come to help me clean up the area as best we can.
With over a thousand of our teens and youth leaders running through the mall to be entertained, the waste and mess we leave is an embarrassment. Everything about it is a contrast to the gospel. When we entertain people in the name of ministry are we really helping them become disciples of Jesus? The mess would say no. In fact, the ways of Jesus seem far from their minds. The entertainment is a distraction. The crowd is a mob. Several times while cleaning someone stops and asks me where this disaster came from. I'm too embarrassed, so I "lie" for Jesus and say it's from a school group.
When I went to the Hope Mission to deliver what I was able to save for the homeless, they refused to take the cans of Coke. They said the people there would fight each other to get their hands on them. What goes through the minds of suburban teenagers from Christian families attending a Christian conference when 150 of them can simply throw away an unopened can of Coke like a piece of garbage?
This event, and others like it, made me question the effectiveness of both crowds and "entertainment" in ministry. I'm not talking about having fun, making sure things are done well, and thinking of attractive ways to draw people in. But when we blend together the materialism and crowds of the mall with Christian discipleship, it doesn't work. In this case it even produced anti-Christian behaviour.
My ministry at Northgate also made me question the effectiveness of getting people to "pray the sinner's prayer" in order to become a Christian. As if all one needs to do is say, "Father, I know that I am a sinner. I ask you to forgive my sins. I accept Jesus as my personal Lord and Saviour and ask him to come and live in my heart. Amen," and then they are "saved."
During my time at Northgate I saw numerous teens pray a prayer like this. I led a number of them through the prayer myself. But many of those teens are not following the Lord today. Some stopped following him days after they prayed.
I also remember taking my youth to a Missions Fest rally where a speaker challenged them to come to the stage and commit their lives to overseas missions. My entire group went forward, but not one of them is an overseas missionary today.
A recent study was done following up those who had signed a True Love Waits pledge to abstain from sex until marriage. After checking on thousands who made that commitment it was found that over 90% did not keep their promise.
I've discovered that pledges, promises and prayers of commitment are cheap if not accompanied with mentoring. But churches and denominations want stats, and saying "this many made a commitment" is nice for the records.
This is not to say I haven't seen people become Christians and stick it out. I have. But in each of those cases I've accompanied them on a journey. They took time coming to their decision and they continued to be taught afterwards. Some of these people can't even remember the exact moment it happened, like trying to figure out the moment you fell in love, but they know they are committed to Jesus. Often their baptism becomes their memorable moment, like a wedding ceremony.
It is for this reason that I prefer the ministry approach of programs like the Alpha course. In these you make a decision about Jesus over several weeks, meals, questions, discussions and friendships, rather than in a moment after an emotionally charged message. Over the years people have asked me why I don't give more "altar calls" after I preach. This is why. And if I am going to give one, I would rather have it be to sign up for Alpha or some other discipleship class where they can explore things further. I feel the same approach should be made when asking Christians to commit themselves to missions, service or pledging money. I'm wary of any ministry, TV preacher or salesman who says "you have to act now!" We need to respect people's minds. We need to let them think, ask, question and explore. Emotions are important and are part of any decision people make, but emotionalism leads to limited and often negative results.